A series of free-spirited conversations between students and leading experts and faculty, that center on ethical issues, the societal responsibilities of scientists and engineers, and the complex problems we face in technology, economy, education, engineering and science in today's modern world.
Ethics Initiative is supported through the generosity of the Hershey Family Foundation.
---
Ethics and Transformative Values in Public Service
A Round-Table Conversation with Civil Servants and NGO Leaders
Friday, February 12, 2017
Venue: Hyderabad, India
By Invitation Only.
(Re)Imagining Ethics in a World of Rapid Developments
The Venerable Tenzin Priyadarshi
Sunday, May 7th, 2017
Venue: International Centre Goa, India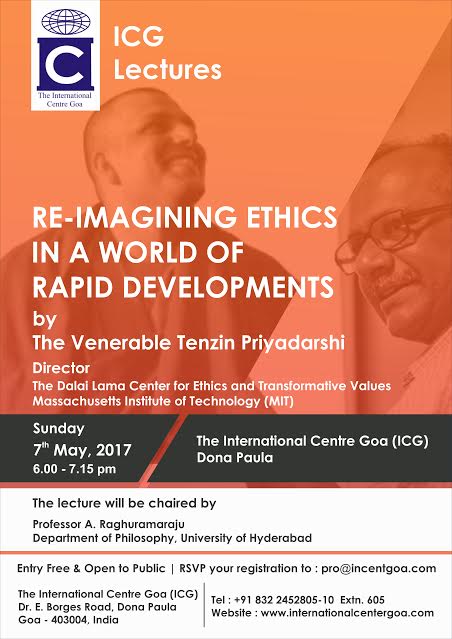 Moral Urgency of Non-Violent Movements
Conversations with Marshall Ganz & Joi Ito
May 2, 2017 at 10:30AM
Venue: MIT Media Lab (E14-3rd Floor Atrium)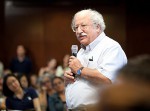 Marshall Ganz grew up in Bakersfield, California, where his father was a Rabbi and his mother, a teacher. He entered Harvard College in the fall of 1960. He left a year before graduating to volunteer with the 1964 Mississippi Summer Project. He found a "calling" as an organizer for the Student Nonviolent Coordinating Committee, and, in the fall of 1965, joined Cesar Chavez in his effort to unionize California farm workers. During 16 years with the United Farm Workers he gained experience in union, political, and community organizing, became Director of Organizing, and was elected to the national executive board on which he served for 8 years. During the 1980s, he worked with grassroots groups to develop new organizing programs and designed innovative voter mobilization strategies for local, state, and national electoral campaigns. In 1991, in order to deepen his intellectual understanding of his work, he returned to Harvard College and, after a 28-year "leave of absence," completed his undergraduate degree in history and government. He was awarded an MPA by the Kennedy School in 1993 and completed his PhD in sociology in 2000. As senior lecturer in public policy at the Kennedy School of Government, he teaches, researches, and writes on leadership, organization, and strategy in social movements, civic associations, and politics. He has published in the American Journal of Sociology, American Political Science Review, American Prospect,Washington Post, Los Angeles Times and elsewhere. His newest book, Why David Sometimes Wins: leadership, organization and strategy in the California farm worker movement was published in 2009, earning the Michael J. Harrington Book Award of the American Political Science Association. He was awarded an honorary doctorate in divinity by the Episcopal Divinity School in 2010.
Marshall Ganz also teaches "Leadership, Organizing and Action: Leading Change" an online program designed to help leaders of civic associations, advocacy groups and social movements learn how to organize communities that can mobilize power to make change.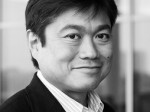 Joichi "Joi" Ito has been recognized for his work as an activist, entrepreneur, venture capitalist, and advocate of emergent democracy, privacy, and internet freedom. As director of the MIT Media Lab, and a Professor of the Practice in Media Arts and Sciences, he is currently exploring how radical new approaches to science and technology can transform society in substantial and positive ways.
Soon after coming to MIT, Ito introduced mindfulness meditation training to the Media Lab. Together with The Venerable Tenzin Priyadarshi, Ito is promoting the contribution that awareness and focus can bring to the creativity process.
Ito is Chairman of the Board of PureTech and as served as both board chair and CEO of Creative Commons. He sits on the boards of Sony Corporation, the John S. and James L. Knight Foundation, the John D. and Catherine T. MacArthur Foundation, and The New York Times Company. In Japan, he is visiting executive researcher of KEIO SFC, and he was a founder of Digital Garage, and helped establish and later became CEO of the country's first commercial Internet service provider.
Meditation, Aesthetics, and Expression (MIT-IAP 2017)
Karole Armitage and Tenzin Priyadarshi
Tuesday, January 24, 2017 (3PM-5PM)
Venue: MIT Media Lab
By Enrollment/ MIT Only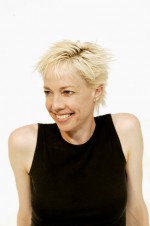 Karole Armitage, artistic director of the New York­-based Armitage Gone! Dance Company, is renowned for pushing the boundaries to create contemporary works that blend dance, music, science, and art to engage in philosophical questions about the search for meaning. Rigorously trained in classical ballet, she has performed in Balanchine's Grand Théâtre de Genève Company and in the Merce Cunningham Dance Company. As a choreographer, Armitage has created productions for the New York Philharmonic at Lincoln Center and many companies, from the Bolshoi Ballet in Moscow to the Ballet de L'Opéra de Paris to the Tasmanian Dance Company in Australia. Armitage's work is at once both esoteric and popular. She has choreographed Broadway productions (Passing Strange and Hair), videos for Madonna and Michael Jackson, several films for Merchant Ivory productions, and the Cirque du Soleil production, Amaluna. A recipient of a Guggenheim Fellowship, Armitage was named a Commandeur de l'Ordre des Arts et des Lettres, France's most prestigious award in 2009, and she holds an honorary Doctorate of the Arts from the University of Kansas (2013). She is currently a Radcliffe Fellow at Harvard University and a Simons Fellow at The University of Kansas, studying Native American plains culture.
The Creative process continues to be a mystery to many of us. For some, it has to do with self-expression and communicating with the world around us. For others, it is an intimate and meditative path that guides them through life. Join Media Lab's Director's Fellows Karole Armitage and Tenzin Priyadarshi in an open conversation as they share their thoughts on creativity, meditation, self-awareness, the role ego can play in the creative process, and the transcending values of art.
This is an interactive conversation (not a lecture). Participation from the attendees is encouraged.
Max. number of participants: 20
In partnership with MIT Media Lab Director's Fellows Program.
Film Screening and Conversation: Under the Turban (MIT)
Wednesday, November 30, 2016 at 7PM
Venue: Wong Auditorium, Tang Center, MIT
Open to General Public
DIRECTOR:  SATINDER GARCHA
Satinder is the founder and chief executive of Elevations Development Pte Ltd., a boutique property developer known for it's high-end, impeccably designed residences.  With an interest in pairing upscale properties with artistic innovation Satinder has partnered with some of the world's most renown architects and designers such as Zhaha Hadid, Robert Stern and Anouska Hemple in creating the building and interiors for the Elevations' Properties.
An entrepreneur at heart, Satinder began his career creating the company People.com in 1995. People.com brought together his background in computer science with the burgeoning needs of the Silicon Valley's then recent creation, the Internet. People.com, a human resources company paired the needs of the emerging cyber world with programmers and developers in India. In 2000 Satinder sold the company and moved to Singapore where he currently resides.
Interested in questions about identity in the global era, this film is Satinder's personal investigation into Sikhism. This is his first documentary feature.