Transformative Teachers U
May 19-21, 2017
Venue: Universidad del Rosario, Bogota, Colombia
By Enrollment Only.
Ethics and Transformative Values in Public Service
A Round-Table Conversation with Civil Servants and NGO Leaders
Friday, February 12, 2017
Venue: Hyderabad, India
By Invitation Only.
(Re)Imagining Ethics in a World of Rapid Developments
The Venerable Tenzin Priyadarshi
Sunday, May 7th, 2017
Venue: International Centre Goa, India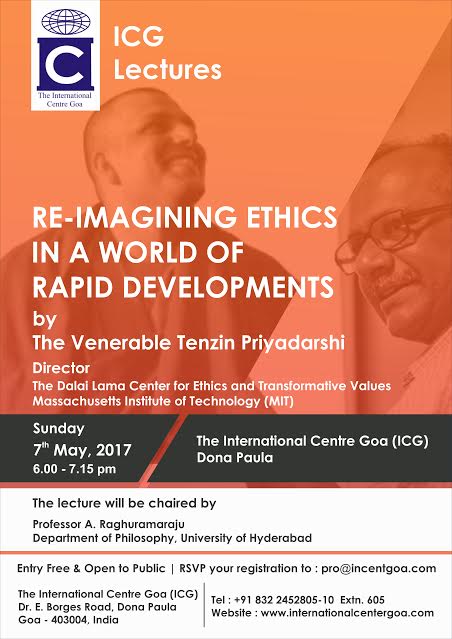 Moral Urgency of Non-Violent Movements
Conversations with Marshall Ganz & Joi Ito
May 2, 2017 at 10:30AM
Venue: MIT Media Lab (E14-3rd Floor Atrium)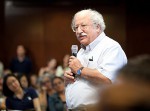 Marshall Ganz grew up in Bakersfield, California, where his father was a Rabbi and his mother, a teacher. He entered Harvard College in the fall of 1960. He left a year before graduating to volunteer with the 1964 Mississippi Summer Project. He found a "calling" as an organizer for the Student Nonviolent Coordinating Committee, and, in the fall of 1965, joined Cesar Chavez in his effort to unionize California farm workers. During 16 years with the United Farm Workers he gained experience in union, political, and community organizing, became Director of Organizing, and was elected to the national executive board on which he served for 8 years. During the 1980s, he worked with grassroots groups to develop new organizing programs and designed innovative voter mobilization strategies for local, state, and national electoral campaigns. In 1991, in order to deepen his intellectual understanding of his work, he returned to Harvard College and, after a 28-year "leave of absence," completed his undergraduate degree in history and government. He was awarded an MPA by the Kennedy School in 1993 and completed his PhD in sociology in 2000. As senior lecturer in public policy at the Kennedy School of Government, he teaches, researches, and writes on leadership, organization, and strategy in social movements, civic associations, and politics. He has published in the American Journal of Sociology, American Political Science Review, American Prospect,Washington Post, Los Angeles Times and elsewhere. His newest book, Why David Sometimes Wins: leadership, organization and strategy in the California farm worker movement was published in 2009, earning the Michael J. Harrington Book Award of the American Political Science Association. He was awarded an honorary doctorate in divinity by the Episcopal Divinity School in 2010.
Marshall Ganz also teaches "Leadership, Organizing and Action: Leading Change" an online program designed to help leaders of civic associations, advocacy groups and social movements learn how to organize communities that can mobilize power to make change.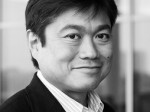 Joichi "Joi" Ito has been recognized for his work as an activist, entrepreneur, venture capitalist, and advocate of emergent democracy, privacy, and internet freedom. As director of the MIT Media Lab, and a Professor of the Practice in Media Arts and Sciences, he is currently exploring how radical new approaches to science and technology can transform society in substantial and positive ways.
Soon after coming to MIT, Ito introduced mindfulness meditation training to the Media Lab. Together with The Venerable Tenzin Priyadarshi, Ito is promoting the contribution that awareness and focus can bring to the creativity process.
Ito is Chairman of the Board of PureTech and as served as both board chair and CEO of Creative Commons. He sits on the boards of Sony Corporation, the John S. and James L. Knight Foundation, the John D. and Catherine T. MacArthur Foundation, and The New York Times Company. In Japan, he is visiting executive researcher of KEIO SFC, and he was a founder of Digital Garage, and helped establish and later became CEO of the country's first commercial Internet service provider.
Compassionate Activism: Contemplative Roots of Non-Violence
Conversations with Robert AF Thurman and Tenzin Priyadarshi
Tuesday,May 2 at 6:30PM
Venue: MIT Media Lab (E14-3rd Floor Atrium)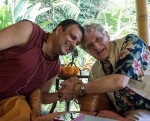 Robert A.F. Thurman is the Jey Tsong Khapa Professor of Indo-Tibetan Buddhist Studies at Columbia University, President of the Tibet House U.S., a non-profit organization dedicated to the preservation and promotion of Tibetan civilization which he co-founded with Richard Gere and Philipp Glass.
Time chose Professor Thurman as one of its 25 most influential Americans in 1997. The New York Times recently said Thurman "is considered the leading American expert on Tibetan Buddhism." He was the first western Tibetan monk and studied with the Dalai Lama which resulted in a friendship spanning more than 40 years.
Professor Thurman is a prolific author of several best-sellers.
(This event will be followed by a book signing of Prof. Thurman's latest book, a graphic novel "Man of Peace")