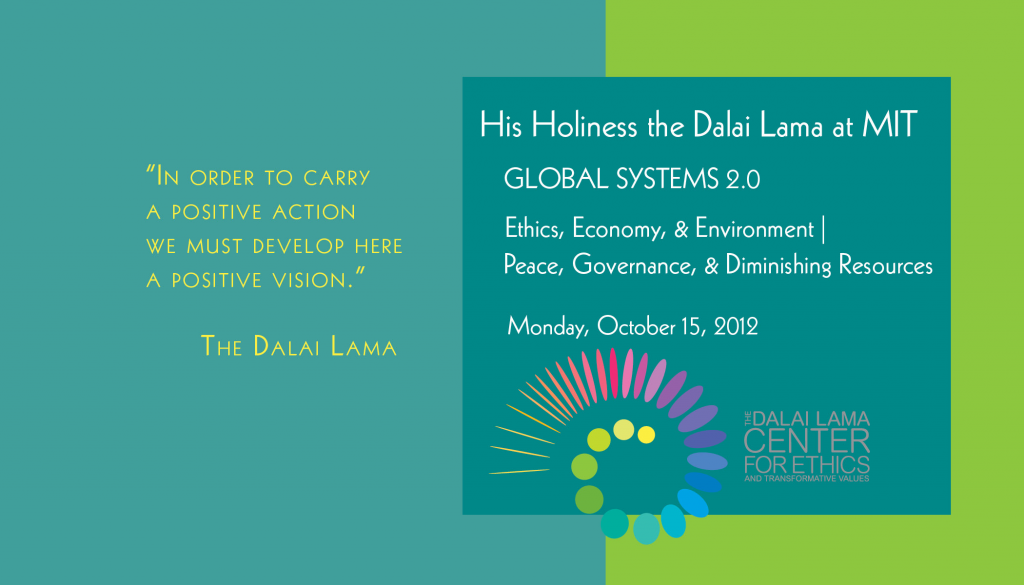 GLOBAL SYSTEMS 2.0
Over 7 billion human beings, degraded environment, declining economies, and soaring consumerism—such is today's world. We are at a crossroads and our future is perplexing. The challenges that we now face, as a world and as human beings, are both critical and complex; they demand a multi-disciplinary approach to solutions.
The forum will provide practical information from multiple disciplines with the aim of sparking ideas to address complex challenges in industry, academia, government, and the world at large through systems thinking and innovation.
 Click here to purchase your ticket

Panel I: Ethics, Economy, and Environment
When: October 15, 2012 9:30AM-11:30AM
(It is recommended that you arrive early to allow yourself ample of time for security. Please be seated in the auditorium by 9AM)
Venue: Kresge Auditorium, MIT
Participants: His Holiness the Dalai Lama, John Sterman, Edward Delong, Penny Chisholm, Kerry Emanuel, Thomas Malone
Panel II: Peace, Governance, and Diminishing Resources
When: October 15, 2012 1:30PM-3:30AM
Venue: Kresge Auditorium, MIT
Participants: His Holiness the Dalai Lama, Deborah Ancona, John Sterman, Rebecca Henderson, Jonathan Foley, James Orbinski, Zeynep Ton
The Center for Ethics is committed to a systems approach to solutions. We live in a complex and interdependent world where we can no longer look at isolated issues for long-term, equitable solutions to regional and global problems. Through this meeting, the Center hopes to encourage multidisciplinary systems thinking and new methods for resolving the most immediate challenges that we face as a society, as a nation, and as an ecosystem.

-Tenzin Priyadarshi, Founding Director, The Center at MIT

HARMONY
with Blue Heron 

When: October 15, 2012 (4PM-5PM)

Venue: MIT Chapel 
The vocal ensemble Blue Heron, directed by Scott Metcalfe, has been acclaimed by The Boston Globe as "one of the Boston music community's indispensables" and hailed by Alex Ross in The New Yorker for the "expressive intensity" of its interpretations. Combining a commitment to vivid live performance with the study of original source materials and historical performance practices, Blue Heron ranges over a wide and fascinating repertoire, including 15th-century English and Franco-Flemish polyphony, Spanish music between 1500 and 1600, and neglected early 16th-century English music, especially the rich repertory of the Peterhouse partbooks, copied c. 1540 for Canterbury Cathedral. Blue Heron's first CD, featuring music by Guillaume Du Fay, was released in 2007. In 2010 the ensemble inaugurated a 5-CD series of Music from the Peterhouse Partbooks; two discs have been released so far, of music by Hugh Aston, Robert Jones, Nicholas Ludford, John Mason, and Richard Pygott. All three of Blue Heron's recordings have received international critical acclaim and the first Peterhouse CD made the Billboard charts.
Blue Heron presents subscription series in Boston and in New York City. The ensemble has appeared at the Boston Early Music Festival; in New York City at The Cloisters, the 92nd Street Y,  and Music Before 1800; at Dumbarton Oaks in Washington, D.C., at Festival Mozaic in San Luis Obispo, California, and at the Berkeley Early Music Festival. Blue Heron is ensemble in residence at the new Center for Early Music Studies at Boston University.
The Center at MIT is a nonpartisan, interdisciplinary think tank dedicated to a vision of global human flourishing based on far-sighted ethical responsibility. We believe that people live more fulfilling and meaningful lives when they are motivated to care for others and make positive contributions to society. The Center works through collaborative inquiry and dialogue with leaders, researchers, and scholars in a variety of fields to promote ethical responsibility, enlightened leadership, and humane values in addressing critical global challenges.
The Center's educational work focuses on interdisciplinary approaches to teaching ethics, transformative values, and enlightened leadership to the next generation of leaders in science, technology, business, and public policy. The Center develops innovative curricula, pilots its teaching programs at MIT, and makes them widely available to other universities, business schools, and corporate training programs. Our goal is to inspire 21st century leadership with compassionate responsibility for the global and long-term social, economic, and environmental impacts of its decisions.
---
Please be Mindful:
-Tickets are non-refundable and non-transferable.
-You will need a physical ticket to gain admission to each event. E-tickets or print outs will not be accepted.
-Be sure to bring your ticket(s) and a Photo ID.
-No recording devices of any kind will be permitted. Your phone/ smartphone should be turned off before security and should remain off during the duration of the event.
-Please arrive early. Allow yourself ample of time to go through security.
-Refrain from bringing large bags and bagpacks. They will not be permitted.
-Click here for parking options.
Through the generosity of many, we were pleased to provide free and low cost tickets to students of Boston Public Schools, colleges, and universities. Given the high demands from all quarters and limited seatings, we had to restrict the distribution of tickets to those who responded first. We will make the videos of the events available in time.