Click here to view images and videos from our 2009 Inaugural Event.
Ethics and Enlightened Leadership
A Talk by His Holiness the Dalai Lama
Thursday, April 30th 2009 @ 2:00PM
Venue
: Kresge Auditorium, MIT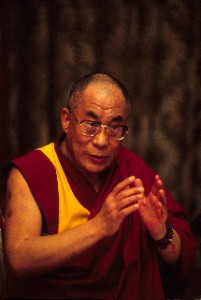 Web Simulcast Venue (Overflow): Room 10-250
Talk is also available on MIT Cable.
AHIMSA: A Tribute to Non-Violence & Humanity
A Benefit Concert for The Center by Philip Glass
Thursday, April 30th 2009 @ 5:30 PM
Venue
: Kresge Auditorium, MIT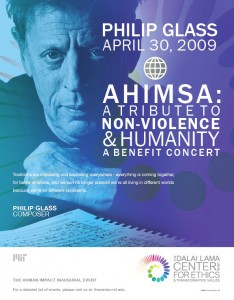 Through his operas, his symphonies, his compositions for his own ensemble, and his wide-ranging collaborations with artists ranging from Twyla Tharp to Allen Ginsberg, Woody Allen to David Bowie, Philip Glass has had an extraordinary and unprecedented impact upon the musical and intellectual life of his times.
The operas Einstein on the Beach, Satyagraha Akhnaten and The Voyage, among many others play throughout the world's leading houses, and rarely to an empty seat. Glass has written music for experimental theater and for Academy Award-winning motion pictures such as The Hours and Martin Scorsese's Kundun, while Koyaanisqatsi, his initial filmic landscape with Godfrey Reggio and the Philip Glass Ensemble, may be the most radical and influential mating of sound and vision since Fantasia. His associations, personal and professional, with leading rock, pop and world music artists date back to the 1960s, including the beginning of his collaborative relationship with artist Robert Wilson. Indeed, Glass is the first composer to win a wide, multi-generational audience in the opera house, the concert hall, the dance world, in film and in popular music — simultaneously. 
He was born in 1937 and grew up in Baltimore. He studied at the University of Chicago, the Juilliard School and in Aspen with Darius Milhaud. Finding himself dissatisfied with much of what then passed for modern music, he moved to Europe, where he studied with the legendary pedagogue Nadia Boulanger (who also taught Aaron Copland , Virgil Thomson and Quincy Jones) and worked closely with the sitar virtuoso and composer Ravi Shankar. He returned to New York in 1967 and formed the Philip Glass Ensemble seven musicians playing keyboards and a variety of woodwinds, amplified and fed through a mixer. 
The new musical style that Glass was evolving was eventually dubbed minimalism. Glass himself never liked the term and preferred to speak of himself as a composer of music with repetitive structures. Much of his early work was based on the extended reiteration of brief, elegant melodic fragments that wove in and out of an aural tapestry. Or, to put it another way, it immersed a listener in a sort of sonic weather that twists, turns, surrounds, develops.
There has been nothing minimalist about his output. In the past 25 years, Glass has composed more than twenty operas, large and small; eight symphonies (with others already on the way); two piano concertos and concertos for violin, piano, timpani, and saxophone quartet and orchestra; soundtracks to films ranging from new scores for the stylized classics of Jean Cocteau to Errol Morris documentary about former defense secretary Robert McNamara; string quartets; a growing body of work for solo piano and organ. He has collaborated with Paul Simon, Linda Ronstadt, Yo-Yo Ma, and Doris Lessing, among many others. He presents lectures, workshops, and solo keyboard performances around the world, and continues to appear regularly with the Philip Glass Ensemble.
Rethinking Human: The Emergence of Contemplative Neuroscience
A Conversation between Richard Davidson and Daniel Goleman
Speakers: Daniel Goleman Ph.D., Richard J. Davidson Ph.D.
Wednesday, April 29th 2009 @ 7:00 PM
Venue
: Wong Auditorium, MIT
Event free and open to public.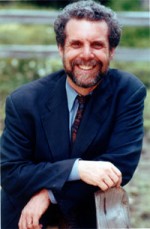 Daniel Goleman is an internationally known psychologist who lectures frequently to professional groups, business audiences, and on college campuses. Working as a science journalist, Goleman reported on the brain and behavioral sciences for The New York Times for many years. His 1995 book, Emotional Intelligence (Bantam Books) was on The New York Times bestseller list for a year-and-a-half; with more than 5,000,000 copies in print worldwide in 30 languages, and has been a best seller in many countries. Goleman's latest book is Ecological Intelligence: How Knowing the Hidden Impacts of What We Buy Can Change Everything. The book argues that new information technologies will create "radical transparency," allowing us to know the environmental, health, and social consequences of what we buy. As shoppers use point-of-purchase ecological comparisons to guide their purchases, market share will shift to support steady, incremental upgrades in how products are made – changing every thing for the better. Social Intelligence: The New Science of Human Relationships, was published in 2006. Social intelligence, the interpersonal part of emotional intelligence, can now be understood in terms of recent findings from neuroscience. Goleman's book describes the many implications of this new science, including for altruism, parenting, love, health, learning and leadership.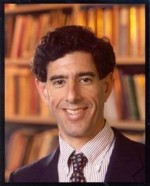 Richard J. Davidson is the Director of the Laboratory for Affective Neuroscience and the W.M. Keck Laboratory for Functional Brain Imaging and Behavior at the University of Wisconsin at Madison. He was educated at New York University and Harvard University, where he received his B.A. and Ph.D., respectively, in psychology. Over the course of his research career he has focused on the relationship between brain and emotion. He is currently the William James Professor and Vilas Research Professor of Psychology and Psychiatry at the University of Wisconsin. He is co-author or editor of thirteen books, including Visions of Compassion: Western Scientists and Tibetan Buddhists Examine Human Nature and The Handbook of Affective Science. Professor Davidson has also written more than 250 chapters and journal articles. He is the recipient of numerous awards for his work, including the Research Scientist Award from the National Institute of Mental Health, the Distinguished Scientific Contribution Award from the American Psychological Association and election to the American Academy of Arts and Sciences. He was a member of the Board of Scientific Counselors of the National Institute of Mental Health. He was named one of the 100 most influential people in the world by Time Magazine in May, 2006 and in November, 2006 he received the first Mani Bhaumik Award from UCLA for advances in the understanding of the brain and the conscious mind in healing. In 1992, as a follow-up from previous Mind and Life meetings, he was a member of a scientific team doing neuroscientific investigations of exceptional mental abilities in advanced Tibetan monks.
Co-sponsors: MIT Brain and Cognitive Science
2009 Mandala @ MIT
The Mandala of Arya Tara for World Peace
April 24th - May 2nd, 2009
Contemplative Dimensions of Human Experience
Speaker: Fr. Thomas Keating, O.C.S.O.
April 28, 2009 at 7PM
Event free and open to public.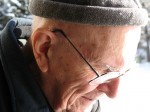 Fr. Thomas Keating, O.C.S.O. (born 1923) is a Trappist monk (Order of Cistercians of the Strict Observance) and priest. He was born in New York City, and attended Deerfield Academy, Yale University, and Fordham University, graduating in December 1943. He is a founder of the Centering Prayer movement and of Contemplative Outreach, Ltd.
Keating entered the Cistercian Order in Valley Falls, Rhode Island in January, 1944. He was appointed Superior of St. Benedict's Monastery, Snowmass, Colorado in 1958, and was elected abbot of St. Joseph's Abbey, Spencer, Massachusetts in 1961. He returned to Snowmass after retiring as abbot of Spencer in 1981, where he established a program of ten-day intensive retreats in the practice of Centering Prayer, a contemporary form of the Christian contemplative tradition.
He is one of three architects of Centering Prayer, a contemporary method of contemplative prayer, that emerged from St. Joseph's Abbey in 1975. Frs. William Menninger and Basil Pennington, also Cistercian monks, were the other architects. In 1984, along with Gustave Reininger and Edward Bednar, he co-founded Contemplative Outreach, Ltd., an international, ecumenical spiritual network that teaches the practice of Centering Prayer and Lectio Divina, a method of prayer drawn from the Christian contemplative tradition. Contemplative Outreach provides a support system for those on the contemplative path through a wide variety of resources, workshops, and retreats. Fr. Keating also helped found the Snowmass Interreligious Conference in 1982 and is a past president of the Temple of Understanding and of the Monastic Interreligious Dialogue among other interreligious activities.
Fr. Keating is author of several books and lives at St. Benedict's Monastery in Snowmass, Colorado.
Co-sponsors: Tech Catholic Community, Office of Religious Life
The Case Against Perfection
Speaker: Michael Sandel, Professor of Government, Harvard University
Monday, April 27th 2009 @ 7:00 PM
Venue
: Wong Auditorium, MIT
Event free and open to public.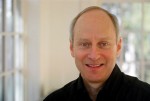 Michael J. Sandel is the Anne T. and Robert M. Bass Professor of Government at Harvard University, where he has taught political philosophy since 1980. He is the author of Liberalism and the Limits of Justice (Cambridge University Press, 1982, 2nd edition, 1998), Democracy's Discontent: America in Search of a Public Philosophy (Harvard University Press, 1996), Public Philosophy: Essays on Morality in Politics (Harvard University Press, 2005), and The Case against Perfection: Ethics in the Age of Genetic Engineering (Harvard University Press, 2007). His work has been translated into Chinese, Japanese, French, German, Spanish, Italian, Portuguese, Greek, Polish, and Korean. His writings also appear in general publications such as The Atlantic Monthly, The New Republic, and The New York Times. Sandel's courses include "Ethics, Biotechnology, and the Future of Human Nature," "Markets, Morals, and Law," and "Globalization and Its Critics." His undergraduate course, "Justice," has enrolled over 14,000 students. In 2007, Harvard made the Justice course available to alumni around the world through webstreaming and podcasting. A recipient of the Harvard-Radcliffe Phi Beta Kappa Teaching Prize, Sandel was named a Harvard College Professor in 1999, and in 2008 was recognized by the American Political Science Association for a career of excellence in teaching. Sandel has lectured to academic and general audiences in North America, Europe, Japan, China, India, Korea, Australia, and New Zealand. He has been a visiting professor at the Sorbonne (Paris), delivered the Tanner Lectures on Human Values at Oxford University, and in 2007 gave a series of eight lectures at universities throughout China. From 2002 to 2005, Sandel served on the President's Council on Bioethics, a national body appointed by the President to examine the ethical implications of new biomedical technologies. The recipient of three honorary degrees, Sandel is a member of the American Academy of Arts and Sciences and the Council on Foreign Relations. A summa cum laude, Phi Beta Kappa graduate of Brandeis University (1975), Sandel received his doctorate from Oxford University (D.Phil.,1981), where he was a Rhodes Scholar.
Co-sponsors: The Philosophy Section of the MIT Department of Linguistics and Philosophy
Exile: The Wealth of Humanity
Speaker: Abderrahmane Sissako
Monday, April 27 2009 at 7:00PM
Venue: MIT 6-120
Event free and open to public.
Born in Mauritania, raised in Mali, trained as filmmaker in the Soviet Union and residing in France and Ethiopia, Abderrahmane Sissako will be Abramowitz Artist-in-Residence at MIT from April 19-May 2, 2009. While at MIT, Sissako will be investigating economic violence in Africa.
Sissako's films meditate on Africa's position in a globalized world. A past recipient of the Geneviève McMillan and Reba Stewart Fellowship for Distinguished Filmmaking at the Harvard Film Archives (HFA)will be returning to HFA for a screening of Bamako on April 20th. Bamako marks a departure from Sissako's recent work, turning away from the film-essay of Life on Earth (1998) and the observational style of Waiting for Happiness (2002) to instead fuse modernist aesthetics with populist elements from any number of genres. The film's Brechtian centerpiece is a trial, held in the Malian capital of Bamako, whose defendant is Western capitalism itself, facing charges that it has forcibly kept a decolonized Africa impoverished and oppressed. Alternating between the monologues that make up the testimony and a series of episodes from the daily life that continues around the trial – and sometimes interrupts (or even undermines) the proceedings – Sissako continues to explore the intertwining of public and private, global and local, modern and traditional so central to his earlier films, although now with a broader palate of tones than before, ranging from the farcical to the ironic and from the satirical to the quietly tragic.
Co-sponsors: MIT Office of the Arts
Learning to See in the Dark: The Roots of Ethical Resistance
Speaker: Carol Gilligan, Ph.D., University Professor, New York University
Friday, April 24th 2009 @ 6:00PM
Event free and open to public.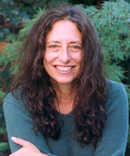 Carol Gilligan is an ethicist and psychologist currently appointed as a University Professor at the New York University. She received an A.B. in English literature from Swarthmore College, a masters degree in clinical psychology from Radcliffe College and a Ph.D. in social psychology from Harvard University. Her landmark book In A Different Voice (1982) is described by Harvard University Press as "the little book that started a revolution." Following In A Different Voice, she initiated the Harvard Project on Women's Psychology and Girls' Development and co-authored or edited 5 books with her studentsMapping the Moral Domain (1988), Making Connections (1990), Women, Girls, and Psychotherapy: Reframing resistance (1991), Meeting at the Crossroads: Women's Psychology and Girls' Development,(1992) – a New York Times notable book of the year, and Between Voice and Silence: Women and Girls, Race and Relationships (1995). She received a Senior Research Scholar award from the Spencer Foundation, a Grawemeyer Award for her contributions to education, a Heinz Award for her contributions to understanding the human condition and was named by Time Magazine as one of the 25 most influential Americans. Her more recent publications include The Birth of Pleasure: a new map of love (2002), Kyra: a novel (2008), and, with David A. J. Richards, The Deepening Darkness: Patriarchy, Resistance, and Democracy's Future (2009).
Co-sponsors: The Philosophy Section of the MIT Department of Linguistics and Philosophy
Climate Change in a Changing World:
Meeting the Needs of Humanity and the Planet
Speaker: Steven Hamburg, Chief Scientist, Environmental Defense Fund
Wednesday, April 22nd 2009 @ 7:00 PM
Event free and open to public.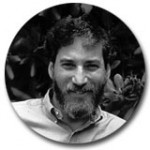 Steven Hamburg is an ecosystem ecologist specializing in the impacts of disturbance on forest structure and function. He came to Brown in 1995 after spending a year at Environmental Defense working on climate change related issues and nine years at the University of Kansas where he directed the Environmental Studies Program and served as Environmental Ombudsman. He received his graduate training at Yale University, held a post-doctoral position at Stanford University and was a Bullard Fellow at Harvard University. At Brown he is the concentration advisor for the environmental science concentration and serves as Research Director of the Global Environment Program at the Watson Institute in International Studies. He has published widely including in Nature and Science and has served as a lead author for the Intergovernmental Panel on Climate Change. He currently works on climate change mitigation issues with the corporate sector.
Co-sponsors: MIT Center for Environmental Health Science, MIT Joint Program on Science and Policy of Global Change, MIT Center for Energy and Environmental Policy Research