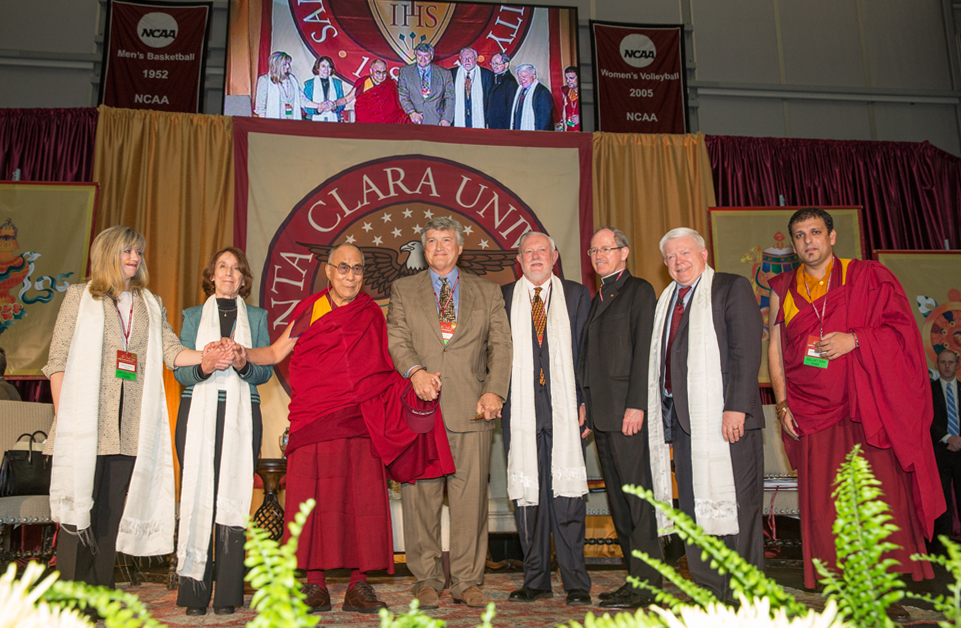 BUSINESS, ETHICS AND COMPASSION
Photo: Michael Collopy
His Holiness the Dalai Lama spent today at Santa Clara University (SCU), a Jesuit university committed to a more humane, just and sustainable world located in that epicentre of innovation, Silicon Valley. The gathering was organized the Markkula Center for Applied Ethics of SCU and the Center for Compassion and Altruism Research and Education of Stanford University in partnership with the Dalai Lama Center for Ethics and Transformative Values at MIT and the Dalai Lama Foundation. It was a bright California morning as he was received by Rev. Michael Engh, President SCU and Dr James Doty, Director CCARE.After chanting by Gyuto Monks, Rev. Engh opened the dialogue on Business, Ethics and Compassion in the Leavey Center and Dr Doty introduced His Holiness, mentioning that many people might not appreciate his involvement in research at the forefront of neuroscience, and Lloyd Dean, CEO of Dignity Health. Before they spoke children of the Living Wisdom School, Palo Alto charmed the entire gathering of 3300 with a medley of song.
"Brothers and sisters, I am very happy to be here," was His Holiness's opening remark. "What I always talk about is how to be happy, as an individual, in families, communities and humanity at large. Among the 7 billion people alive today, everyone has the right to be happy. However, we tend to focus on material comfort while neglecting our inner values.
"I'd like to thank these beautiful young children for their singing. They reminded me of my own childhood. I was born into an ordinary farming family. We were not that well-off, our real wealth was in my mother's affection for us. Because of that our home was full of joy. When I was still the youngest she naturally took more care of me. I rode on her shoulders as she went about her work. My brothers and sisters and I never saw her pull an angry face. Now I feel this was the real blessing I grew up under. Later, I was able to train in the cultivation of compassion using my intelligence, but the seed was planted by my mother."
His Holiness stressed that the value of affection is huge, asking why human beings neglect such inner values, focusing instead on increased intelligence, a self-centred attitude and a materialistic way of life? Is there anything to be done? he asked and suggested that human nature is actually more generous. He said we are social animals with a natural tendency to come together. Individual survival depends on cooperation, if we are filled with hatred and distrust, that cannot be achieved. We have the seed of compassion within us and when we are young it is fresh and ripe for cultivation.
Too often in the economic field we see corruption, the gap between rich and poor, and a lack of affection and respect for the lives of others. Warm-heartedness is therefore very important. We need to include training in compassion and warm-heartedness in education from kindergarten up to university. It's something important for everyone.
Medical researchers have found that a more compassionate attitude brings about a calm mind, which leads to self-confidence and inner strength, which in turn support better health. With inner strength compassion increases and anxiety, tension and stress are reduced. Anxiety and anger destroy our health and disrupt our families, so compassion has a deep positive influence on whatever we do.
"Modern medical care is run like a business, but even business needs a sense of ethics. Since we have a body and mind, we need that mental peace and physical comfort to which compassion gives rise. We need to educate people to increase their concern for others' well-being. Naturally we are concerned for ourselves, we have our own self-interest at heart, but we need to fulfil it wisely by developing concern for others rather than being merely foolishly selfish. Thank you"
Lloyd Dean, CEO of Dignity Health, described it as an organization trying to build compassion. He explained that its roots lie in the altruistic actions of 8 sisters who came to San Francisco in 19th century intent on providing healing and care for the poor. He spoke of three basic principles they follow at Dignity: firstly, when they need to take big decisions they try to listen to the needs of those who will be impacted by those decisions. Secondly, they ensure that no one dies alone. Thirdly, compassion is an obligation, not just a social nicety. He said:
"Compassion and kindness cost little, but the returns are great." His Holiness's simple response was:
"Wonderful."
Talking of ways to inspire people to nurture inner values like kindness and compassion, His Holiness remarked that there is a need to include those 1 billion people who declare they have no interest in religion. For this reason he advocates the adoption of a secular approach to ethics, an approach on the Indian model that shows appreciation and impartial respect for all religions, but also for those who have none.
Asked for one thing that makes a difference, Lloyd Dean said:
"I'd like my health professionals to look me in the eye and use my name." His Holiness agreed, saying that it is only when doctors and nurses approach him with a smile that he feels safe and secure. He said:
"If you are open, honest and truthful, you'll be successful. In your own interest it's better to be able to help others than to neglect or harm them."
His Holiness was honoured among other distinguished guests at the President's Lunch, after which he made some remarks. In the afternoon he returned to the Leavey Center for a discussion 'Incorporating Ethics and Compassion into Business Life'. Before an audience of 450, Kirk Hanson Director of Markkula Center for Applied Ethics introduced the other panellists: Charles Geschke, co-founder of Adobe, Jane Shaw, Chairman of the Board, Intel (retd) and Monica Worline, research fellow, CompassionLab, University of Michigan.
Chuck Geschke described principles that had been applied in the setting up of Adobe. Firstly, hire the best qualified people you can and if you want to advance, hire people smarter than you. Secondly, the company recognises and supports employees' right to a personal life. When His Holiness asked whether smart but devious people could be included in the first principle, Geschke replied that they would not be who they wanted to hire. Thirdly, because there are several constituencies involved in a company, such as customers, employees and share-holders, you need to work to ensure the allegiance of them all. His Holiness remarked that he was impressed by the consideration inherent in these principles.
Jane Shaw, for her part, said that preparation for her participation had led her to review her life. His Holiness's comments about his mother reminded her of her own upbringing. She grew up in a village in Worcester, England after WWII in a home with strong family values: share, play fair, don't hit anyone, respect elders and cultivate empathy or compassion. She worked for 24 years in a company whose founder inculcated compassion in practice. Once she was leading her own company, she placed trust in the employees which earned their allegiance and loyalty. Finally, at Intel there was an occasion when they wanted to set up an assembly plant in Vietnam where bribery was the norm. Only when it was agreed that bribery would play no part did they go ahead. Besides this, when Intel became aware that certain minerals were being made available as a result of the intensely violent conflict in the Democratic Republic of Congo, steps were taken to ensure that the company, and so its products, did not use such 'conflict minerals'. She felt this was compassion at work in business, and employees and customers felt good about it.
Monica Worline mentioned that in her research she had discovered it was more difficult for people to discern the need for compassion in organizations than we think.
His Holiness distinguished two kinds of compassion, the kind of instinctive concern for others that we feel about our friends and relatives and a more embracing compassion that is a result of analytical thought. Then, on top of a sense of concern for others, there is the wish to take responsibility for doing something about it. Questioned about competition, he said there are two kinds, competition that is focused on success and reaching the top and competition that seeks to bring others down.
Asked how people can find room in their lives for spiritual practice, His Holiness remarked that one of the characteristics of the future is that it is open. Jane Shaw, however, suggested that the way to find time is to prioritize. Concerning the role of women, His Holiness explained that early human society had little need for leaders. After the establishment of agriculture and a sense of property a need for leaders emerged, the criterion for which was physical prowess. This favoured men. Education has since eliminated the predominance of physical strength. Now, when the need is to promote compassion, there is a need for women's leadership, because it's a field in which they are more skilled. His Holiness remarked that if there were more women leaders, violent conflict would likely be less.
His Holiness concluded:
"We have a basic instinct for compassion, but we need to develop it. Concern for others is related to human rights and everyone needs to be assured of their human rights because everyone wants and has a right to be happy."