DALAI LAMA FELLOW HONORED BY THE AMERICAN SOCIETY FOR MICROBIOLOGY
June 25, 2012 
| Adapted from Weil Cornell Medical College News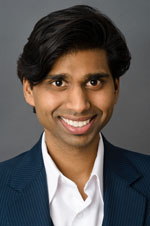 Dr. Sandeep Kishore,
a graduate from the Tri-
Institutional M.D.-Ph.D program
Dr. Sandeep Kishore, a student in the Tri-Institutional M.D.-Ph.D program, has been awarded one of two 2012 Raymond W. Sarber Awards from the American Society for Microbiology. These awards, established in honor of Raymond W. Sarber for his contributions to the growth and advancement of the Society, recognize students for research excellence and potential at both the undergraduate and predoctoral levels.
Currently a post-doctoral fellow in the Department of Global Health & Social Medicine at Harvard Medical School, Dr. Kishore received the award for his research and educational achievements as a predoctoral student at Weill Cornell Medical College.
Dr. Carl Nathan, chairman of Microbiology and Immunology, professor of Microbiology and Immunology, professor of Medicine and the R.A Rees Pritchett Professor of Microbiology at Weill Cornell Medical College, lauded Dr. Kishore as "a rare individual who is utterly devoted to good causes, singularly effective, everywhere at once, and leaves behind whirlwinds of activity that would otherwise not have stirred but once launched are self-sustaining."
In 2006, Dr. Kishore developed and co-taught an elective curriculum at Weill Cornell that integrated economic, scientific, clinical, and public health perspectives on contemporary issues surrounding malaria. Posted on the web, this was the first open-source curriculum on neglected diseases, and garnered international attention at a medical education conference in Havana, Cuba in 2008. The course has since evolved into a full-fledged longitudinal, four-year curriculum managed by students and faculty with full administrative support. The elective curriculum now attracts 40 percent of the Weill Cornell first-year medical class and features financial subsidies and support for research, applied public health, or clinical service abroad.
"One of my top priorities was to develop a trainee pipeline to provide early and thorough exposure to interdisciplinary perspectives in global health," Dr. Kishore said. "I wanted to attempt to answer the question: How does one integrate basic sciences and public health?"
While in the laboratory of Dr. Kirk Deitsch, professor of Microbiology and Immunology at Weill Cornell, he made a fundamental discovery regarding the evolution of the basic transcriptional machinery of malaria parasites — a discovery that helped form the basis of his current research characterizing gene activation in the parasite responsible for malaria (Plasmodium falciparum).
"Dr. Kishore has demonstrated the ability to utilize multiple approaches, including epidemiology, molecular biology, and computational analysis, to advance this project," said Dr. Deitsch. "This type of interdisciplinary approach is truly powerful, and in my opinion, represents the future of microbiology."
In addition to his outstanding research and classroom accomplishments, Dr. Kishore has delved into issues of global health advocacy and policy. He has made extensive contributions outside the laboratory to address a gap between basic scientists and public health practitioners and ensure technologies and health innovations were made available in developing countries.
In 2007, Dr. Kishore successfully advocated for the inclusion of a cholesterol-lowering statin on the World Health Organization's Model List of Essential Medicines. He has since petitioned the Organization to include a proton pump inhibitor and a modern beta blocker.
In 2009, he served as an invited speaker for the National Academy of Sciences Institute of Medicine Board on Global Health for the Institution's report "Promoting Cardiovascular Health in the Developing World." That same year, he founded the Young Professionals' Chronic Disease Network, a collection of young leaders under the age of 40 that advocates for policy change on chronic diseases from the bottom up. These 400 leaders represent 40 countries and more than 170 organizations. In 2010, he represented the Network as a civil society delegate to the United Nations General Assembly.
In addition to the above efforts, Dr. Kishore's health-related work has been featured by the media, including Scientific American, The Huffington Post and The Scientist. He is a co-author of the forthcoming textbook Sick Societies, published by Oxford University Press. His technical writings in public health have appeared in a broad range of journals including PLoS Medicine, the Nature Reviews series, Clinical Pharmacology & Therapeutics, Globalization & Health and Global Forum for Health Research. He currently serves on the Board of Directors of the global NGO Universities Allied for Essential Medicines. He is the first Lancet Prize winner for community service, and was a recipient of the Paul & Daisy Soros Fellowship for New Americans in 2008.
His nominator, Dr. Peter Hotez, founding dean of the National School of Tropical Medicine at Baylor College of Medicine, said he was "deeply impressed with Dr. Kishore's drive and ambition to infuse a sense of social purpose and action in graduate and medical education. Dr. Kishore constantly reminds graduate students of the importance of putting a social conscience behind science."
Dr. Kishore received his B.S. in Biology from Duke University. He then earned his M.Sc. from the University of Oxford, where he was an Usher Cunningham Scholar in Medical Sciences. He completed his Ph.D. from Weill Cornell's M.D.-Ph.D. program in May, and will return this fall to complete his M.D. He is a Fellow at the Dalai Lama Center for Ethics and Transformative Values at the Massachusetts Institute of Technology.