A NEW GENERATION OF ENERGY LEADERS
COMPASSIONATE YOUNG LEADERS FOCUSES ON COLLABORATION, PROBLEM-SOLVING, AND HARNESSING ETHICAL IMAGINATION
September 30, 2013
Press Release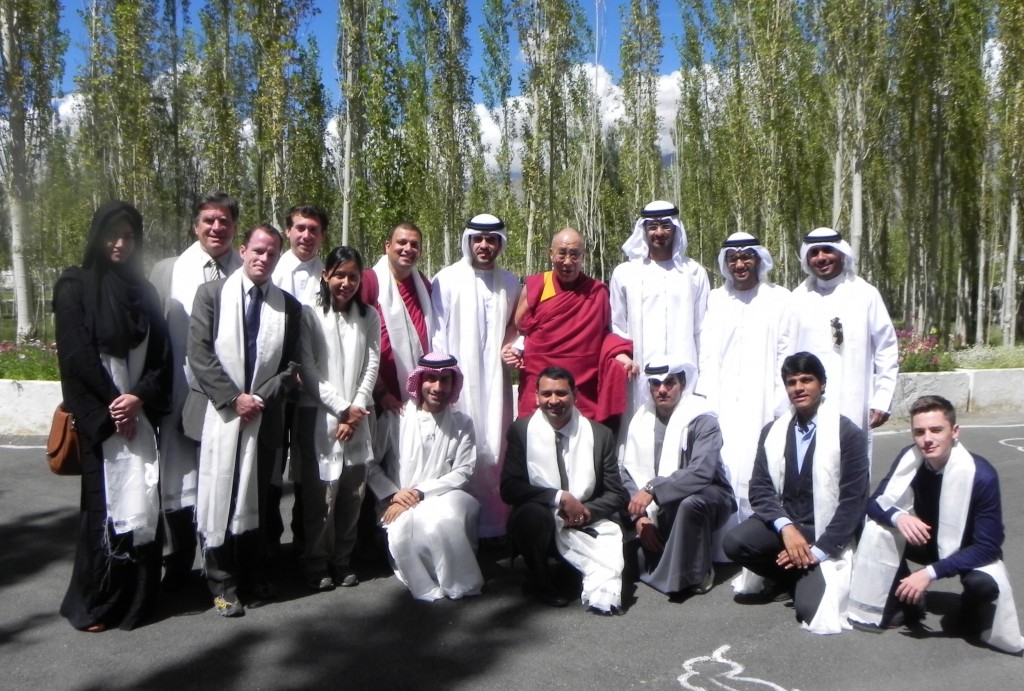 CYL participants from UAE with The Dalai Lama
The Dalai Lama Center for Ethics and Transformative Values at MIT, together with the Young Future Energy Leaders (YFEL) program by Masdar Institute of Science and Technology in Abu Dhabi, recently organized a unique summer program on 'Ethics, Energy Access and Development' held in Abu Dhabi, the United Arab Emirates (UAE) and Ladakh, India in August 2013.
The workshop was attended by YFEL members from the UAE and Sweden, as well as Indian students and young adults from academic institutions and local organizations such as Jammu University, Leh's Industrial Training Institute, and Thapar University. It took place at SECMOL's solar powered campus in the village of Phey, west of Leh city.
Led by instructors from The Center at MIT and Masdar Institute, including contributions from local energy practitioners, the course covered topics such as hybrid solar system design, micro-grid design with community participation and capacity building, social entrepreneurship, and business models for off-grid energy systems. Through lectures, case study discussion, and hands-on, group-based projects coupled with field visits, the course focused on designing effective, sustainable energy systems, with a special emphasis on delivering socio-economic development impacts in rural and remote communities.
Swedish YFEL participant, Hjalmar Nilsonne, in highlighting the benefits of the practical aspects of the course, said "I have been very fortunate for the past couple of years to have been part of numerous YFEL activities, but we've never done anything like this. Here in Leh we actually get the opportunity, not only to see renewable energy installations in action, but to live and study with the people who actually live and depend on them. And that is something that we've never been close to doing before. They are the component that's always lacking in the textbooks. So this is the most real training, as an engineer, that you could hope for."
Meanwhile, Mohamed Al Ghailani from Abu Dhabi found the course extremely motivational and enlightening. He said, "As Young Future Energy Leaders, we have this strong motivation to do something for our country or for communities in need, but we didn't know where to start. I feel that after our week in Ladakh, with the knowledge that I've gained, I'm more than capable to actually do something useful. Now I know how to look at different communities, the different aspects that affect a community, and how to just get a very comprehensive view of how to help a community without adversely affecting it."
Field visits included a trip to Saspol village, where course participants visited with local families in the area to engage with the community, learn from local practices and knowledge, as well as strengthen their understanding of development-related issues and challenges. The group also visited Alchi village, the location of a new hydroelectric power plant that recently became operational.
A highlight of the trip was the rare opportunity to meet with His Holiness the Dalai Lama. Accompanied by The Center's Founding Director The Venerable Tenzin Priyadarshi, the YFEL members met with His Holiness for an informative discussion on the role and challenges of effective youth leadership in sustainable development, promoting cross-cultural exchange and the importance of ethical values and global responsibility.
"I think meeting with (the) Dalai Lama also made this trip unique…he is an influential person and winner of the Nobel Peace Prize! So it was a great opportunity for us to gain from his knowledge and make the discussion more informative, about aspects of our community and region, in general. So we were able to clarify and strengthen mutual understanding," said Abdulla Al Kayoumi, an engineer from Al Ain.
The Dalai Lama encouraged the group to become ambassadors for global wellbeing and to work collectively towards international development including empowerment of women and the disenfranchised.