COMPASSIONATE ACTIVISM: CONTEMPLATIVE ROOTS OF NON-VIOLENCE
Conversations with Robert AF Thurman and Tenzin Priyadarshi
Tuesday,May 2 at 6:30PM
Venue: MIT Media Lab (E14-3rd Floor Atrium)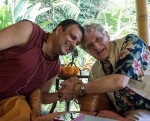 Robert A.F. Thurman is the Jey Tsong Khapa Professor of Indo-Tibetan Buddhist Studies at Columbia University, President of the Tibet House U.S., a non-profit organization dedicated to the preservation and promotion of Tibetan civilization which he co-founded with Richard Gere and Philipp Glass.
Time chose Professor Thurman as one of its 25 most influential Americans in 1997. The New York Times recently said Thurman "is considered the leading American expert on Tibetan Buddhism." He was the first western Tibetan monk and studied with the Dalai Lama which resulted in a friendship spanning more than 40 years.
Professor Thurman is a prolific author of several best-sellers.
(This event will be followed by a book signing of Prof. Thurman's latest book, a graphic novel "Man of Peace")